Report calls obesity a threat to US national security
Obesity among military-aged men and women is on the rise, leaving a smaller pool of people fit to serve.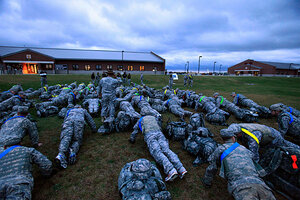 Lucas Jackson/Reuters
Americans are becoming too fat for their britches, military britches that is.
From 2007 to 2008, 5.7 million American men and 16.5 million women of military age were ineligible for duty because they were overweight or obese, according to a team of Cornell researchers. (Military branches must recruit about 184,000 new personnel to replace those who leave every year, according to 2009 numbers from the U.S. Bureau of Labor Statistics.)
In the past half-century, the number of women of military age who exceed the U.S. Army's enlistment standards for weight-to-height ratio and body fat percentage has more than tripled. For military-age men, the figure has more than doubled, the researchers report in a working paper published by the National Bureau of Economic Research entitled, "Unfit for Service: The Implications of Rising Obesity for U.S. Military Recruitment."
"Almost one in four applicants to the military are rejected for being overweight or obese – it's the most common reason for medical disqualification," study researcher John Cawley, an associate professor of policy analysis and management, said in a statement. "It is well-known that the military is struggling to recruit and retain soldiers. Having a smaller pool of men and women who are fit enough to serve adds to the strain and creates even more problems for national defense."
Being too heavy or fat meant 23 percent of applicants were rejected from the military, according to a 2006 National Research Council (NRC) report. (The second most common reason is smoking marijuana, which leads to rejection of nearly 13 percent of applicants, according to the 2006 NRC report.)
---