Quake-ravaged Haiti braces for tropical storm Tomas
Aid groups and the Haitian government try to prepare as tropical storm Tomas threatens to regain hurricane strength. More than 1 million people live in tents on the rubble-strewn island nation.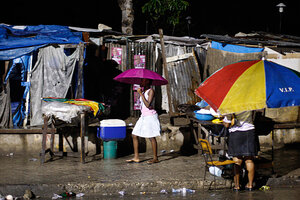 Eduardo Munoz/Reuters
It's a scenario in earthquake-stricken Haiti that aid groups have been preparing for, but no one wanted to see: a tropical cyclone bearing down on a nation where flimsy postquake tents house more than a million people and buildings that once might have served as shelters for some residents are now piles of rubble.
Aid groups and the Haitian government are trying as best they can to help people gird for tropical storm Tomas. It is expected to reach hurricane strength before making landfall overnight Friday somewhere west of Port-au-Prince, along the country's southern peninsula.
Since aid began flowing into the country after a major earthquake Jan. 12, which killed an estimated 300,000 people, aid workers have steered some of that material toward hurricane preparedness.
Residents have been building retaining walls out of sandbags to forestall mudslides and flooding. Aid workers have stockpiled tents, water purification equipment, and other emergency supplies around the country. They have set up a system of cellphone text-message alerts to keep people informed of a storm's progress. And they have been helping residents in tent cities dig drainage ditches to draw water away from their shelters.
---