NASA launches 100-year quest to send humans to the stars
A joint NASA-Pentagon project, called the 100 Year Starship Study, aims to get inventive minds thinking about how human interstellar space travel can become a reality by next century.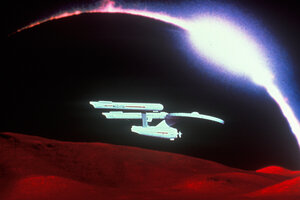 Newscom
A NASA center and the Pentagon's lead research group are striking financial flint to steel in hopes of sparking a sustained effort to make interstellar space travel a reality.
On Thursday, an official with the Defense Advanced Research Projects Agency (DARPA) announced that the agency will award a $500,000 grant to the person or group who can lay out the most effective road map for financing and implementing a research and development program to lead to interstellar travel by early next century.
At that point, the government will bow out, leaving it up to the winner to turn the ideas on Powerpoint slides to a sustainable research program – one that also is likely to focus on the ethical, economic, and legal issues surrounding the prospect of launching humans to other stars.
The award, expected to be announced in November, represents the final stage in what by then will have been a year-long collaboration between DARPA and NASA's Ames Research Center in Moffett Field, Calif. The money is what remains of an initial pot of $1 million – mostly from DARPA – to get the project, dubbed the 100 Year Starship Study, going.
The technological hurdles alone of achieving interstellar space travel are high – driven by the enormous distances involved.
---