Mars Curiosity rover waiting on launch pad. But will funding end?
NASA's Mars Science Laboratory, which includes the car-sized Curiosity rover, arrived on its Cape Canaveral launchpad on Thursday. But some experts worry about the lack of funding for Mars missions beyond 2013.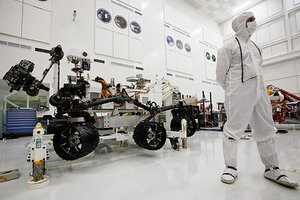 Damian Dovarganes/AP
NASA's Mars Science Laboratory, a $2.5 billion rover designed to assess that planet's suitability for life, arrived at its Florida launch pad on Thursday in preparation for a planned November 25 liftoff, the U.S. space agency said.
The spacecraft, which is about the size of a small car, was scheduled to be hoisted by crane to the top an unmanned Atlas 5 rocket at Cape Canaveral Air Force Station, NASA spokeswoman Lisa Malone said.
Powered by heat from the decay of radioactive plutonium, the rover is expected to spend one Martian year -- 687 Earth days -- exploring a massive crater that has a 3-mile-high mountain rising from its floor. That is about twice the height of the rock layers exposed in the Grand Canyon.
Scientists do not know how the mountain formed, but it may be the eroded remnant of sediment that once completely filled the crater.
With its 10 science instruments, including two tools that can chemically analyze pulverized rock, the rover named Curiosity is designed to determine if the landing site, known as Gale Crater, has or ever had the organics necessary for life.
---