Is the US dragging its feet on a climate deal?
Some countries and advocacy groups are saying that the United States is seeking to delay the start of a legally binding climate change deal until after 2020, a charge that the US climate envoy denies.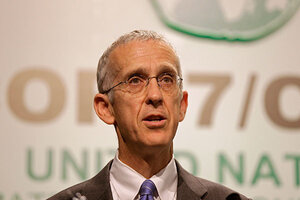 Schalk van Zuydam/AP
The United States denied on Thursday it was trying to delay a new global climate deal until 2020, saying it supported an EU proposal that aims to chart a path to a more ambitious pact to fight climate change.
Delegates from almost 200 countries have until Friday to decide whether to commit to signing up to an internationally binding climate deal by 2015 at the latest.
Some countries and pressure groups say the United States is trying to delay the start of a legally binding deal until after 2020, because of deep splits between Democrats and Republicans in the U.S. Congress and because environmental curbs are seen as a vote loser ahead of U.S. presidential elections next year.
"It is completely off base to suggest the U.S. is proposing it will delay action to 2020," U.S. climate envoy Todd Stern told reporters.
"The EU has called for a roadmap (to a future deal). We support that," he said.
The European Union is pushing to complete talks for a global deal that would bind all major polluters to cut emissions by 2015. But even if that were agreed, such a pact would likely only come into force five years later.
The United States said earlier this week it supported a discussion that would lead to an emission cut deal, even one that was legally binding, but would not commit itself to set dates or a set outcome.
---