Next Mars mission to probe Red Planet's core
Scheduled to land on Mars sometime in 2016, NASA's next planetary mission will measure seismic waves and heat flows through the Red Planet's interior.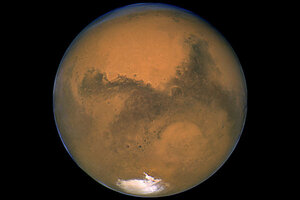 NASA/ESA
NASA's next low-budget planetary mission will land a probe on Mars in 2016 to study why the Red Planet went down such a different evolutionary path than Earth did, the agency announced today (Aug. 20).
The new mission, called InSight, will attempt to determine whether Mars' core is liquid or solid, and why the Red Planet's crust does not appear to be composed of drifting tectonic plates like Earth's is. Such information could help scientists better understand how rocky planets form and evolve, researchers said.
"InSight will get to the 'core' of the nature of the interior and structure of Mars, well below the observations we've been able to make from orbit or the surface," John Grunsfeld, associate administrator for NASA's Science Mission Directorate, said in a statement.
InSight — short for Interior exploration using Seismic Investigations, Geodesy and Heat Transport — is the latest of NASA's Discovery-class missions, and its cost will be capped at $425 million in 2010 dollars. [7 Biggest Mysteries of Mars]
The mission will be led by Bruce Banerdt of NASA's Jet Propulsion Laboratory (JPL) in Pasadena, Calif. Insight is slated to drop a lander on Mars in September 2016 to begin its two-year scientific mission.
---