Curiosity makes history with scoop – and begins Mars mission in earnest
NASA's Curiosity rover has successfully drilled into bedrock and scooped the sample – a first for Mars exploration. It was the rover's last systems test, meaning the training wheels are off.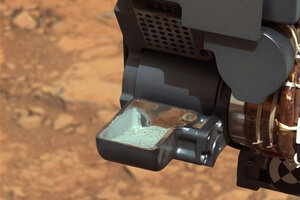 NASA/AP
In drilling a small hole into bedrock on the floor of Gale Crater and tucking the sample into a scoop, NASA's Mars rover Curiosity has made space-exploration history and passed a significant mission milestone.
It's the first time any rover has done more than scratch the surface of rocks on the red planet. And it's the first time a robotic craft has drilled on any planet other than Earth since the then-Soviet Union put two landers on the surface of Venus in 1981, each of which drilled into soils and returned data during their brief operation on the planet's harsh surface.
The test represented the final step in the rover's commissioning period, which began shortly after landing last August. As Curiosity slowly exercised its robotic arm and each of the other nine science packages it carries, researchers grew increasingly excited by the results – not just as confirmation that the experiments and tools were working, but that the evidence these tests gathered pointed to a landing zone where water once flowed.
The drilling "is a real big turning point for us," says John Grotzinger, a planetary geologist at the California Institute of Technology and the mission's lead scientist.
Like a teenager eager to slip behind the wheel of her first car, the scientists received the figurative keys to the rover last week from controllers overseeing these initial months of systems tests. Unless problems arise, destinations will now be picked more for their scientific interest than their value as a spot to test hardware.
---