Ancient Arctic was warm, wet, and green. What that says about the future.
A 1,000-foot core sample taken from a lake in Russia's northeast Arctic documents a period when the region was 14 degrees warmer than today, but with similar atmospheric CO2 levels.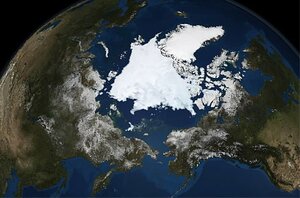 Goddard Space Flight Center Scientific Visualization Studio / NASA / Reuters / File
Working with a continuous record of Arctic climate reaching back 3.6 million years, researchers have documented a period when the region was significantly warmer and wetter than it is today and when the atmosphere's inventory of carbon dioxide was comparable to today's levels.
The period the team has analyzed covers the first 1.4 million years of the record, when the region's climate shifted from warm and wet to conditions that signaled the start of ice ages.
This period is of interest in part because the warmth persisted despite periodic shifts in Earth's orbit that reduced the intensity of sunlight reaching the region.
Temperatures were high enough – about 14 degrees warmer than today in the warmest month of the summer – to suggest that the climate system is more sensitive to small changes in greenhouse-gas concentrations than the sensitivity estimates included in some climate models.
If that's the case, as other paleoclimate studies have indicated, the models may be underestimating the amount of warming likely to result from increasing atmospheric CO2 concentrations, the scientists say.
The period also is of interest because it holds clues about the factors that drove climate from prolonged warmth into a cycle of ice ages – factors that will help researchers understand the role natural variability plays in the region's climate and where climatic "tipping points" may lie.
The work "identifies for the first time a long, continuous story of that history from the Arctic and what I call the Arctic borderlands," says Julie Brigham-Grette, a geologist at the University of Massachusetts at Amherst who focuses on the Arctic's ancient climate, referring to adjacent regions. Dr. Brigham-Grette is the lead author of a formal report of the results, which are being published in Friday's issue of the journal Science.
The research was conducted by a team of 16 scientists from Russia, the US, Germany and Sweden.
---