Amazon tablets mix best of Kindle and iPad: report
More tablets enter the ring as Amazon preps its own iPad rival to launch in October, according to reports. Can the minds behind the popular Kindle create tablets that stand out?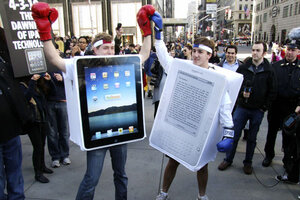 Newscom
Amazon.com Inc will launch a tablet computer this year to extend its position as the world's largest Internet retailer, expand in mobile commerce and sell more digital goods, according to analysts and investors.
Amazon plans to introduce a tablet with a 9-inch screen before October that will run on Google's Android operating system, the Wall Street Journal reported on Wednesday, citing unidentified people familiar with the matter. An Amazon spokeswoman did not respond to requests for comment on Wednesday.
Analysts and investors have been expecting a tablet from Amazon for several months. The company's shares hit a record high earlier in July, partly on optimism about the new device, according to Colin Sebastian, an analyst at R.W. Baird.
"Amazon's brand, user base, and digital media offering would position a tablet well against some of the other options out there,'' Sebastian told Reuters. "Tablet users tend to purchase more digital items than comparable physical items, so Amazon wants more exposure to that.''
Amazon shares rose 1.1 percent to close at $213.50 on Wednesday, leaving them up more than 17 percent so far this year.
At least 1.5 million Amazon-branded tablets are being built for the third quarter and the target for 2011 as a whole is 4.5 million to 5 million units, computer hardware analysts at Canaccord Genuity wrote in a recent note to investors.
The move will increase competition between Amazon and Apple Inc, which makes the top-selling iPad tablet and also sells digital books, music and video through its iTunes service.
---