Apple manufacturer Foxconn admits to employing underage interns
Foxconn – the manufacturer for Apple, HP, and other gadget giants – said it found underage interns as young as 14 working at one of its factories in China. Despite labor-watch organizations, child labor is still a big concern in China.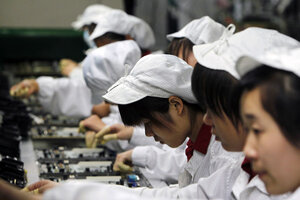 Kin Cheung/AP/File
Foxconn, best known for manufacturing Apple's iPhones and iPads, admitted to finding underage interns at its Yantai factory in China. Foxconn said the eastern city's factory has no association with any Apple gadgets.
The Associated Press reports that students as young as 14 were discovered during a company inspection of the factory. The minimal legal age to work in China is 16. All students were sent back to their schools and the situation is still under investigation. Foxconn said it is working with the schools to find out how the interns were sent to the factories.
"We recognize that full responsibility for these violations rests with our company and we have apologized to each of the students for our role in this action," Foxconn said in a statement. "Any Foxconn employee found, through our investigation, to be responsible for these violations will have their employment immediately terminated."
---