Need a smart phone case? Nokia lets you 3-D print your own.
Nokia released templates for Lumia 820 cases, letting owners customize and create their own with 3-D printers.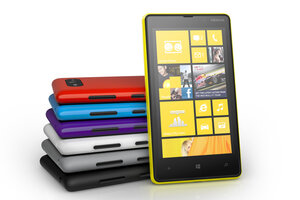 Nokia
Nokia users may soon be able to create their own cellphone cases with help from a 3-D printer.
The company released mechanical drawings of the Lumia 820's back shell as part of a 3-D printing Development Kit (3DK). John Kneeland, a community manager for Nokia, says in the Nokia Conversations blog that Lumia 820 owners may use the drawings as templates to start creating their own phone shells with 3-D printers.
"Internally it helps us with rapid prototyping as we, to borrow [Nokia CEO] Stephen Elop's words, 'increase the clock speed of Nokia,'" Mr. Kneeland says in the blog post. "In the future, I envision wildly more modular and customizable phones.... You want a waterproof, glow-in-the-dark phone with a bottle-opener and a solar charger? Someone can build it for you — or you can print it yourself."
As Kneeland put it, Nokia has come a long way since the Nokia 5110 and its multi-colored collection of removable faceplates, which date back to 1998. Nokia aims to take advantage of increasingly popular 3-D printers, which he described as a sequel to the Industrial Revolution.
"[I]t's going to take somewhat longer to arrive than some people anticipate, and that may disappoint people," he says in the Nokia Conversations blog. "For now, it's a bleeding-edge technology for bleeding-edge early adapters—which is exactly where Nokia is aiming its 3-D printing community efforts."
Until now, Nokia offered cases for its Lumia 820, which has a removable back shell. The Nokia-made cases came in different colors, some offering extra shock protection or wireless charging.
---