By 2014, there will be 1 Android phone for every 9 people on Earth
A new study estimates that 798 million Google Android-powered smart phones will be in use by the end of the year.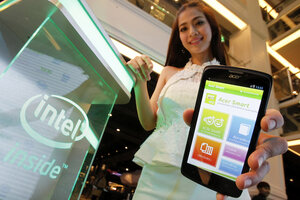 Reuters
By the end of the 2013, 1.4 billion smart phones will be in use around the globe, according to a new study from research firm ABI. 
Of that 1.4 billion, 21 percent (or 294 million phones) will be running iOS, the Apple operating system that powers the iPad and iPhone. And a whopping 57 percent (or just shy of 800 million) will be running Google's Android OS.
A note: ADI hasn't further broken down those numbers into individual ownership statistics, so 800 million Android smart phones doesn't necessarily mean 800 million different Android users.¬†After all, plenty of users probably own a couple of Android phones 'Äď one for work and one for business, for instance.
Still, the report is clear proof of Android's growing global supremacy. 
In a separate study released late last month, Strategy Analytics reported that 152.1 million Android smart phones were shipped in the fourth quarter of 2012, nearly double the amount that were shipped in Q4 of 2011. 
"Almost half-a-billion Android smartphones were shipped in total worldwide during 2012," noted Neil Mawston, executive director at Strategy Analytics. "Android is clearly the undisputed volume leader of the smartphone industry at the present time." 
A major contributor to the global success of Android, of course, is smart phones such as the Android-powered Samsung Galaxy S III. Released in May of last year, the Galaxy S III is currently available in upwards of 140 countries, and has consistently bested the Apple iPhone in plenty of markets. 
In related news, Google is widely believed to be working on an "X-Phone," which would be manufactured by its recently-acquired Motorola Mobility arm. 
For more tech news, follow us on Twitter: @CSMHorizonsBlog
---