Angry Birds: Play online for free, thanks to Google
(Read article summary)
Angry Birds is now available on the Chrome Web Store, Rovio announced today.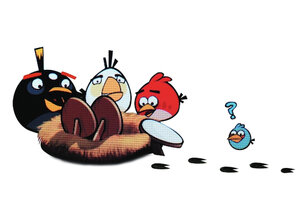 Newscom
Angry Birds is finally making a landing on the Web. For newbies – and considering the popularity of the game, which extends across countries and continents, we're not sure how many of you there are out there – Angry Birds is a point-and-click strategy game. It took off on iPhone, before moving to a range of other platforms, including Android, and in the year and a half since launch, it has been downloaded tens of millions of times.
But until this week, there was no Web version of the game. Enter the Chrome-branded Angry Birds, which was developed specially for Google's Chrome OS. (The timing is not accidental – Google has just unveiled a pair of cheap, fast "Chromebooks.") "This is only a beta release of the game, and so far we have 63 levels of the original game available, with an additional 7 special Chrome levels," Rovio reps wrote on the official company blog.
---