Black Ops 2 brings the Call of Duty franchise crashing into the future
(Read article summary)
Black Ops 2, set for launch this fall, will take place partially in 2025, in an America overrun by deadly drones. Can Black Ops 2 continue Call of Duty's record-breaking streak?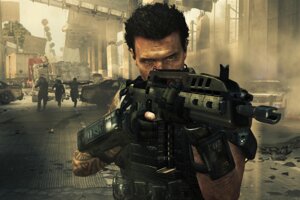 Activision
Black Ops 2 – the latest in the breathtakingly-successful Call of Duty video game franchise – is scheduled to hit shelves on Nov. 13, just in time for the holiday shopping season. Today, to help gin up a little excitement in advance of the fall launch, publisher Activision published a short trailer (video below). Unsurprisingly, the latest CoD will apparently be filled with explosions, gunfire, and grizzled, grim-voiced veterans speaking directly into the camera.
But unlike the Vietnam-era Black Ops, Black Ops 2 will be set in 2025, in the midst of a war that has embroiled several major American cities, including Los Angeles, Washington, and New York. "No one is going to be able to call this Black Ops 1.5," Activision Publishing CEO Eric Hirshberg told USA Today this week. "There's a lot of new stuff in this game. There's a lot of new ideas. We are going for it. We are taking some risks."
---