The latest $1 billion darling? Say hello to Yammer.
(Read article summary)
Microsoft is poised to snap up Yammer, according to one news outlet. But what is Yammer, exactly?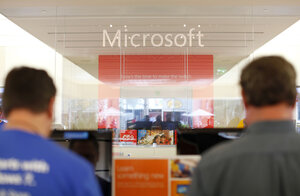 Reuters
Microsoft is close to acquiring a social media platform called Yammer, in a deal that could be worth $1 billion, Bloomberg reported today. According to Bloomberg, which cited a couple sources close to the negotiations, the whole thing could go through as soon as tomorrow, meaning Yammer might well join the ranks of Instagram and OMGPOP – two other tech properties recently snapped up for serious chunks of cash.
So hey, what's Yammer?
A social network for businesspeople, basically. It allows users to share documents or presentations on a protected network. So salesman A in Idaho can wirelessly share news of the latest conference with saleswoman B in New York, without worrying about confidential data being compromised. In Silicon Valley speak, sites like Yammer are called enterprise social networks.
---