Windows 8 will be cheap, sort of
(Read article summary)
On Monday Microsoft announced that a Windows 8 upgrade would cost just $39.99 for users running Windows 7, Vista, or XP. And new details about the OS suggest that installing Windows 8 should be a pretty painless process.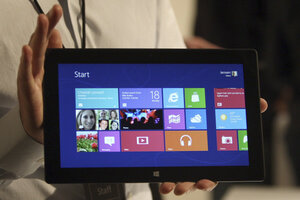 David McNew/Reuters/File
We don't yet know when Windows 8 will be available, but at least we know how much it'll cost: just a penny shy of $40, assuming you're upgrading from Windows XP, Windows Vista, or Windows 7. Microsoft announced the upgrade pricing on Monday, adding that the upgrade will be available through the Windows.com website -- no need to pick up a packaged copy (you can buy an upgrade DVD if you want, but it'll set you back $70).
The (relatively) cheap price will be available through the end of January 2013. For comparison's sake, Windows 7 upgrade discs cost from $120 to $220, but many retailers knock at least 20 bucks off the official price. Even upgrading from one version of Windows 7 to another cost about $80.
Microsoft assures us that upgrading to Windows 8 will be a seamless process. An "upgrade assistant" will walk you through configuring and installing the new OS, and will double-check to make sure your computer supports Windows 8. It should even notify you if the installation will break any of your applications or device drivers.
Depending on what software you're running now, Microsoft says, the Windows 8 upgrade will look a little different. If you're on a consumer edition of Windows 7, you can migrate your personal files, settings, and even applications (everything that ran on Windows 7 should work just fine on Windows 8). If you're running Vista, you'll be able to carry over your files and settings. If you're on XP, you'll only be able to bring your files over.
---