Windows 8 is a go. Now which Windows device to buy?
(Read article summary)
Windows 8 tablet? Laptop? Finding a Windows 8 device to love.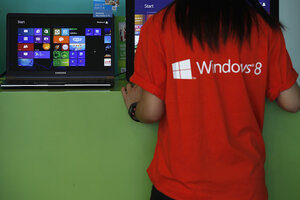 Reuters
At an event in New York earlier this week, Microsoft chief Steve Ballmer presided over the official launch of the Windows 8 operating system, which he called "truly magical." Reviews of Windows 8 have been pretty positive, with critics praising the speed of the software, the tiled design, and the touch-friendly interface. So let's say you're interested in picking a Windows 8 device.
Where to start?
Well, the obvious answer – and the gadget that Microsoft has put a lot of its marketing muscle behind – is the Surface tablet. The Surface is priced starting at $499 ($599 if you want the Touch Cover keyboard), and runs a version of Windows 8 called Windows RT. Microsoft hopes the Surface will compete directly with the Apple iPad, although as plenty of analysts have pointed out, Microsoft will need a more apps first.
---