iPad Mini, new iPad set new sales record (sort of)
(Read article summary)
Apple said it had sold 3 million iPad tablets in the first weekend that the iPad Mini and the fourth-generation iPad were available.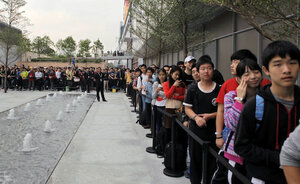 Reuters
Apple sold 3 million iPads in the three days following the launch of the iPad Mini and the fourth-generation iPad, the Cupertino company said today. Apple did not further break down that figure, so it remains unclear precisely how many Minis were actually unloaded, but in a statement, Apple CEO Tim Cook said interest in the high-powered, pint-sized tablet remained robust.
"Customers around the world love the new iPad mini and fourth generation iPad," Mr. Cook said. "We set a new launch weekend record and practically sold out of iPad minis. We're working hard to build more quickly to meet the incredible demand."
About that "launch weekend record": Earlier this year, customers reportedly snapped up 1.5 million Wi-Fi-only third-generation iPads in the first weekend that device was available. Because the fourth-generation and iPad Mini are currently only available in Wi-Fi versions (4G units will become available in the next couple of weeks), Apple can kind of/sort of said it broke its own record with the newest tablets.
---