Black Ops 2 blasts past $500 million in sales – in 24 hours
(Read article summary)
Black Ops 2, the newest Call of Duty shooter from Activision, is likely to be the most successful game of the 2012 holiday season.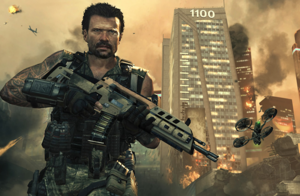 Activision Blizzard
24 hours. $500 million in sales.
According to publisher Activision, that's the tally from the launch of Black Ops 2, the latest installment in the storied – and extremely successful – Call of Duty franchise. In a press release, reps for Activision said "millions" of consumers had attended launch events in 16,000 cities worldwide, helping to drive up sales.
"With first day sales of over half a billion dollars worldwide, we believe Call of Duty is the biggest entertainment launch of the year for the fourth year in a row," Bobby Kotick, the CEO of Activision, said in the statement. "Life-to-date sales for the Call of Duty franchise have exceeded worldwide theatrical box office receipts for Harry Potter and Star Wars, the two most successful movie franchises of all time."
---