Wii U, Nintendo's long-awaited successor to the Wii, hits stores on Sunday
(Read article summary)
The Nintendo Wii U will sell at two different price points – $299 and $349 – and launch with 23 titles, including Super Mario Bros. U.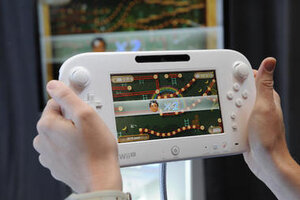 Reuters
On Sunday, six years after the launch of the original Wii, Nintendo will release its latest console, the Wii U.
The device retails at two price points: $299 gets you a white Wii U with 8 GB of storage, a GamePad controller, and all the necessary accessories. $349, on the other hand, gets you a black Wii U with 32 GB of storage, the accessories and the controller, and a stand, a controller cradle, and the Nintendo Land video game, which the San Francisco Chronicle calls "both [an] introduction and tutorial for the new console."
Side note from the Horizons desk: Committed gamers are almost definitely better off opting for the $349 bundle, if only for the extra storage. If you play a lot of games, you're going to end up forking over a few bucks down the line for memory expansion anyway, right? Better to just get it over with now. Plus, the black "deluxe" console is pretty sweet, in our humble opinion.
The Wii U represents a major leap forward from the Wii. For one, this console is capable of playing HD content, and it's got enough processing power to muscle through the kind of big, graphically-complex titles that currently populate the Xbox 360 and PlayStation 3 ecosystems. (Of course, in this way, Nintendo is only playing catch-up – once Microsoft and Sony release their next consoles, Nintendo likely will be left in the dust all over again.)
---