Eyeing a Nintendo Wii U? Wait to buy one.
The Nintendo Wii U will drop in price this December, according to DealNews. It says that smart shopper should hold off.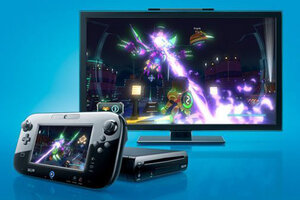 Nintendo
If you're thinking about buying the long-awaited Nintendo Wii U gaming system, you'd be wise to wait just a little longer. Bargain site DealNews has just issued a report advising people to hold off until December.
"In fact, the two weeks before Christmas is the best time to buy popular toys," Lou Carloza, a writer for DealNews said in a blog post. "It is likely, though that Wii U games will see discounts during this time as well."
However, don't expect any big price cuts. The Wii U will have continued appeal through the post-holiday season, making retailers reluctant to slash prices during the holiday rush, Carloza said. The console will come in two versions: a basic model with 8GB of storage for $300 and a 32GB model for $350.
Nintendo is expected to release 50 game titles from the launch on Nov. 18 through the end of March 2013, including a new version of Nintendo's classic "Super Mario Brothers," along with "Call of Duty: Black Ops 2," "Mass Effect III," "Assassin's Creed III" and "007 Legends." Two Platinum Games titles, "The Wonderful 101" and "Bayonetta 2," will be Wii U exclusives. Games will cost $60 apiece — $10 more than the current Wii's premium game releases in the past.
---