Steve Jobs takes second medical leave. Will Apple wobble?
Steve Jobs announces an indefinite medical leave. While Steve Jobs is still CEO, what does this mean for Apple's future?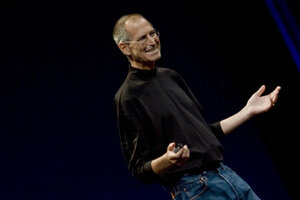 Newscom
Steve Jobs, the CEO who transformed Apple Inc. from niche computer maker into the most-envied consumer-electronics brand today, is taking a medical leave of absence for the second time in two years.
In the last decade, Jobs, 55, has survived a rare but curable form of pancreatic cancer and undergone a liver transplant. The news that he will again step back from his day-to-day role raises serious questions about the CEO's health.
But analysts believe the company Jobs shepherded from garage startup to a $65 billion technology trendsetter is in good hands with the current slate of talented executives — even as Apple, now the Silicon Valley player to beat, faces increasing competition from Google Inc. and others.
IN PICTURES: Steve's Apple
It is not yet clear investors in the U.S. will share analysts' confidence. The news was delivered Monday when markets were closed for the Martin Luther King Jr. holiday. Investors sent Apple's shares down $15.48, or 4.4 percent, to $333 in Tuesday morning trading.
Investors have pinned much of their faith in the company on Jobs himself, sending shares tumbling on every bit of news or rumor of his ailing health. That's because Jobs is an industry oracle of sorts, inventing new products he knows consumers will want even before they realize it. He is also known as a demanding and hands-on leader who is involved in even the smallest details of product development.
---