With Windows Phone 8, Microsoft finds a middle way
Windows Phone 8 doesn't feel like Apple or Android, though it's borrowed good ideas from both.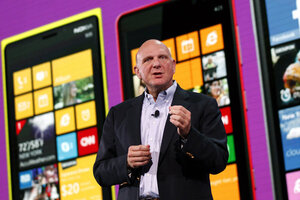 Robert Galbraith/REUTERS
As we head into November, a dark-horse candidate has shaken up the race. While partisans for Apple and Android stay firmly aligned with their establishment parties, Microsoft's Windows Phone now offers independents an attractive third platform.
Apple's iPhone focuses on consistency and simplicity. All Apple phones look nearly identical, and the software feels very intuitive, even to people unfamiliar with smart phones. Meanwhile, Android stands for choice. It comes in many variations – large screen or small, keyboard or no, standard software or endlessly tweakable – but that customization can seem daunting to newcomers.
"Windows Phone appears to have some of the best, not the best, but some of the best elements of both worlds," says Michael Gikas, senior electronics editor for Consumer Reports. "On the one hand, it's very simple, as opposed to the chaos of the Android operating system.... But there's also some degree of customization, certainly more than you can get on an Apple phone."
---