Khmer Rouge film spurs Cambodians worldwide to revisit buried history
Cambodian diaspora revisits the country's brutal Khmer Rouge history in 'Enemies of the People,' a new documentary competing for an Oscar.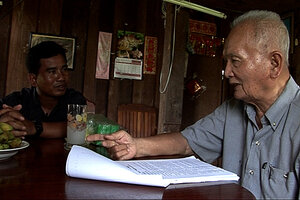 International Film Circuit
The Cambodian pond once bubbled as the bodies buried under the muck slowly decomposed, recalls an elderly Cambodian woman in the new documentary "Enemies of the People."
Sitting at the pond's edge in the film, Khoun and Suon, who each only go by one name, don't reveal that this was one of many pits scattered around Cambodia where as Khmer Rouge cadres they executed, often with only a small knife, suspected subversives of the regime during the late 1970s.
Revisiting this horrific past is not meant to be an education in tragedy, co-director and Cambodian journalist Thet Sambath says in the film, but rather an exercise in unearthing and documenting a secret and often repressed past.
Based on reactions, it is also potentially helping a decades-overdue process of reconciliation and healing for Cambodians spread from Southeast Asia to Lowell, Mass., where the film premiered Nov. 12 and is screening through Thanksgiving. Winner of the 2010 Special Jury Prize at the Sundance Film Festival, "Enemies of the People" is now on the short list for an Oscar (trailer below).
---