From Cambodia's Killing Fields to New York, a new film confronts Khmer Rouge
Will the conviction of Khmer Rouge torture chief 'Duch' be the beginning of justice for 1970s war crimes? A documentary that premiers today in New York City argues it could be.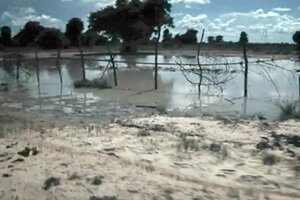 YouTube screengrab
In the new film "Enemies of the People," the highest-ranking Khmer Rouge leader still living promises to disclose at his war crimes trial details of the mysterious inner workings of the regime.
"I will talk about it at the court to open their eyes," says the notoriously secretive Nuon Chea, pledging to explain the 1970s mass killings that still confound Cambodians.
The documentary won the 2010 Special Jury Prize at the Sundance Film Festival and began a series of US screenings July 30 in New York (see trailer below).
Mr. Nuon is expected to go on trial next year, following up on the court's initial July 26 verdict against a Khmer Rouge chief jailer, Kaing Guek Eav, or "Duch," who ran a torture facility. Duch was sentence to 19 years for war crimes and crimes against humanity.
Unlike Duch, who was not a member of the ruling clique, Nuon was second in command only to Brother No. 1 Pol Pot, who died in 1998.
---