Khmer Rouge torture chief to appeal: Is he a chameleon or a contrite Christian?
Khmer Rouge torture chief 'Duch' converted to Christianity after overseeing the deaths in Cambodia of some 17,000 people in the late 1970s. He now plans to appeal a 19-year prison sentence, leading victims and even his own pastor to believe his invocations of Jesus Christ were a ploy to gain leniency in court.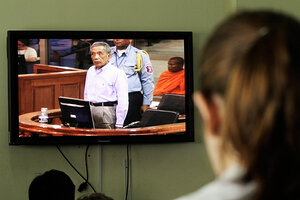 Chor Sokunthea/Reuters
Math wiz, high school teacher, communist ideologue, born-again Christian, aid worker, contrite confessor, and mass murderer.
These were some of the roles played over the past three decades by Kaing Guek Eav, better known by his revolutionary name, "Duch."
Now an international war crimes tribunal has given the former Khmer Rouge prison chief a new title: war criminal.
A United Nations-backed tribunal today found Duch (pronounced Doik) guilty of war crimes and crimes against humanity for his role as head of Cambodia's S-21 prison camp in Phnom Penh, where some 17,000 people were tortured and executed.
Judges handed down a sentence Monday that could allow the 67-year-old walk free after serving 19 years, angering many Cambodians who wanted the killer jailed for life. Moreover, Duch's defense team said Tuesday that he will appeal against his conviction.
Critics say the court case has provided little comfort to those still struggling to understand this chameleon-like figure who rose rapidly through the ranks of the Khmer Rouge to become the regime's chief executioner.
KHMER ROUGE EXECUTIONER found guilty, but Cambodians say sentence too light
---