Chris Tucker: Why he left, and why he's back on stage
Chris Tucker returned to the stage Aug. 13 after four years away from the spotlight. But Chris Tucker is far from the first comedian to take a sabbatical.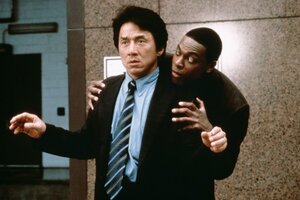 Ben Glass/New Line Cinema
On the night of Aug. 13 Chris Tucker returned to the stage at the Wild 94.9 Comedy Jam in Mountain View, Calif. It has been four years since he starred alongside Jackie Chan in 2007's "Rush Hour 3," and since then, he's stayed out of movies and, mostly, out of the public eye.
In an interview with the New York Times Tucker offered an explanation for his absence, saying that that the movie roles offered to him were disappointing. They were too similar to the one he played in the 'Rush Hour' series, he said, and just not "good enough."
Chris Tucker isn't the first comedian to take refuge from undesirable roles in stand-up comedy, where there is personal freedom of speech unavailable in television and film. Dave Chappelle, who joined Tucker at the Wild 94.9 Comedy Jam, left his Comedy Central cable TV 'Chappelle Show' at the height of its popularity because, he said, he felt uncomfortable with subtle racial emasculation, among other pressures.
---
Follow Stories Like This
Get the Monitor stories you care about delivered to your inbox.