Role-playing games pull reluctant school kids into a supportive crowd
For kids with a troubled school life, role-playing games teach valuable life skills such as risk-taking and leadership.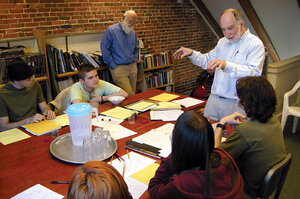 Ethan Gilsdorf
When Max Delaney came to rural Maine 13 years ago, his itinerant family moved from town to town, school to school. With few social connections, he felt isolated. Like an outsider.
"It was hard for me to find people," says Mr. Delaney, now 21. "I was searching for a community." His academic performance suffered, and he didn't get along with his teachers. "I did not do well with authority in school."
Then, the year his family arrived in Belfast, a coastal town of some 6,300 on Penobscot Bay, he discovered The Game Loft and finally found his tribe.
Similar to other youth-development organizations such as Outward Bound or Scouting, The Game Loft also fosters risk-taking, leadership, and camarad­erie. But for kids who find the football gridiron to be a foreign world, The Game Loft immerses them in a different sort of team sport.
Via table-top role-playing games like Dungeons & Dragons (D&D), Game Loft members play characters armed not with football padding and hockey sticks but chain mail, broadswords, light sabers, and magic spells. Working together, they charge onto battlefields and explore underground dungeons, seeking valor in these imaginary realms.
"I took to [role-playing] immediately," Delaney says. He joined as a member of The Game Loft, then started volunteering as a staff member, and finally became an employee. Along the way, the games he played built up his character in the real world.
---