A book that brought God closer
As The King James translation of the Bible marks its 400th anniversary, its deep influence and prominence are slipping.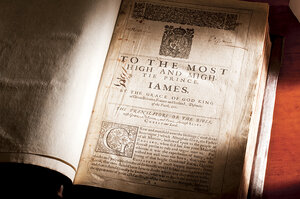 Courtesy of Mark Thayer/The Mary Baker Eddy Library
Let us now praise a famous book – perhaps the most influential ever written in the English language. But here's the root of the matter: There's a fly in the ointment. To everything there is a season, and for some today the sway of this once mighty orator has shrunk to something akin to a still, small voice.
The King James Version (KJV) of the Bible celebrates 400 years in print this year. Its impact is pervasive and almost impossible to fully calculate. The KJV, also often called the "authorized version," has embedded itself into the very "DNA of the English language," as one writer describes it. At least 257 common phrases (the previous paragraph is stuffed with five of them) in use today come from it, one scholar has calculated.
The effect of the KJV on the way people write – and think – can be seen in works from the speeches of Abraham Lincoln and Martin Luther King Jr. to the spare prose of Ernest Hemingway to Milton's "Paradise Lost" to the text of Handel's oratorio "Messiah" to the style Herman Melville employed in "Moby Dick."
Melville's novel "is more than just this story of some people sailing and a whale. It's a grand, almost religious, allegory because it's written in a language that's scriptural, which is [the King James Bible]," says the Rev. Ephraim Radner, professor of historical theology at Wycliffe College in Toronto.
---