Top Picks: The Beach Boys' new album, a book on self-employment, and more
A short film charts skateboarding in Afghanistan, Robert Downey Jr. and Jude Law star as Holmes and his sidekick in 'Sherlock Holmes: A Game of Shadows,' and more top picks.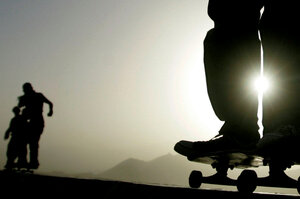 Rafiq Maqbool/AP
THE 'BOYS' ARE BACK
Can The Beach Boys "do it again"? Well, the album That's Why God Made the Radio is both far better than it should be and about as bad as you might imagine. The good stuff is vintage Brian Wilson – the stirring title track is everything we love about the "Boys," and the last three Wilson songs could have fit on any "golden era" album. But in the Mike Love-influenced tracks, we find been-there-done-that lyrics like "cruisin' the town, diggin' the scene." The verdict? Half great, which ain't bad.
Baker street irregulars
This is the summer of all things British, so what could be more tweedy than Robert Downey Jr. and Jude Law as the iconic sleuths? Back for more mystery and intrigue with the team of Sherlock and Watson pursuing their old nemesis, Professor Moriarty, Sherlock Holmes: A Game of Shadows, is out on DVD and Blu-ray June 12. It includes mobile apps so you can view extras on the go.
Skating toward change
Skateboarding may bring to mind memories of adolescent rebellion or Tony Hawk; but in Kabul, Afghanistan, it's helping to uplift the lives of Afghan youths. Skateistan: To Live And Skate Kabul, a nine-minute video nominated for the 2012 Vimeo Awards, tells the story of Skateistan, the first skate park in Kabul. The film is raw and beautifully shot; it reveals an effort for hope in a city known for its tribulation. Check out http://bit.ly/SkateKabul and watch for "Skateistan" as a new book soon available in the United States.
---