Top Picks: Ruth Rendell's new mystery, 'Little Shop of Horrors' on Blu-ray, and more
A blogger visits famous film locations, "Frontline" covers the 2012 election, and more top picks.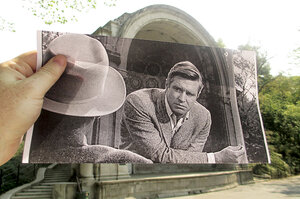 Courtesy of Christopher Moloney
Mr. Stay Puft Was here
Christopher Moloney, a "Ghostbusters" fan, noticed something about his daily New York route. "I have a very similar commute to the Stay Puft Marshmallow Man," he says, referring to the movie's mushy antagonist that wreaks havoc in the city. Mr. Moloney found a still of the angry marshmallow, held it up in the exact location where Stay Puft stormed Manhattan, took a photo, and posted it online. That led to the creation of FILMography, a blog about his visits to movie locations (mostly in New York) where he holds up a black-and-white photo of a scene juxtaposed against a picture of the real-life scene in color, and snaps a nearly seamless image of the two. Check them out at philmfotos.tumblr.com.
Upstairs-Downstairs mystery
Leave it to the prolific Ruth Rendell to put her trademark spin on the upstairs-downstairs genre. In her new book, The St. Zita Society (Scribner, 257 pp.), she once again preys on pride, vanity, and greed in a story about the foibles and maneuverings of the so-called St. Zita Society, named, we're told, for the patron saint of servants. The members work in a seemingly quiet, posh London neighborhood, but, as any Rendell fan knows, self-created mayhem is sure to follow.
One really hungry plant
Fans of Audrey the man-eating plant, rejoice. Little Shop of Horrors arrives Oct. 9 on Blu-ray. This special edition has commentary by director Frank Oz on the theatrical version, with an introduction by Mr. Oz and a behind-the-scenes documentary. It also features a newly restored, 20-minute ending from the director's first cut, now in color.
---