Valentine's Day: One of Broadway's most famous romances, 'The Phantom of the Opera,' celebrates its 25th year
As Valentine's Day arrives, one of the theater's most famous love stories is celebrating its twenty-fifth birthday. 'Phantom' opened on Broadway a few weeks before Valentine's Day in 1988.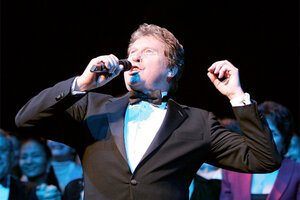 Seth Wenig/Reuters
Over the past quarter of a century, 37 different actresses have played the female lead in "The Phantom of the Opera" on Broadway. All 37 have been dressed by one woman: Erna Dias.
"I have no favorites. You can't do that," says Dias, who has been a wardrobe attendant with the show at the Majestic Theater in New York since rehearsals began.
She oversees each actress' 16 nightly costume changes — one so short she has only 34 seconds to get it done — and has rearranged her vacations to ensure she's present for each new heroine making her debut as Christine Daae.
"To keep this fresh, when I come in, I try to think of every night as opening night," she says. "I've been in this business 36 years and I never thought this show was going to last this long. This is unbelievable."
The show is celebrating its record-setting silver anniversary and it has eye-popping numbers — grossing over $887 million, using 1,600 tons of dry ice and having its famous chandelier travel 4 million feet. But behind the numbers and behind the scenes, it is people like Dias who have kept "The Phantom of the Opera" going, one outfit at a time.
It's people like David Caddick, the Grammy-winning musical supervisor who also frequently conducts the show dressed in Edwardian tails. His hair has grown gray over the 25 years he's been with "Phantom."
"It keeps going because people want it to keep going," says Caddick, who leads the show's tours as well. "We have an audience that keeps coming back, and a new audience who have never seen it, and everyone's very grateful for that."
---