'Brave' trailer shows a battle for the hand of heroine Merida (+video)
(Read article summary)
'Brave' will be the first Pixar film to feature a female main character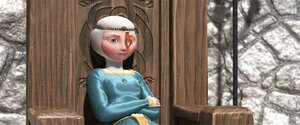 Pixar/YouTube screenshot
Pixar animation will try its hand at telling an original princess fairy tale with this summer's Brave, a Celtic-themed fable that chronicles the adventures of the independent-minded Princess Merida (voiced by Boardwalk Empire's Kelly Macdonald), whose "impetuous" behavior and manner forever changes life in the mystical Scottish highlands.
The new full-length theatrical promo for Brave isn't so much a trailer as it is an extended clip; it encompasses a scene where the firstborn sons of the kingdom's three lords attempt to prove their talent with a bow and arrow, so as to win Merida's hand in marriage. Naturally, the feisty flaming-haired princess (who's got some mad archery skills herself) decides to take matters into her own hands.
Check out that new trailer for Brave below:
While the "grrrl power" aspect and female empowerment metaphor of Brave play pretty heavy-handed in this new footage (Merida must break loose from the confines of her dress – get it?) the official synopsis suggests this Pixar flick will amount to more than simply another "modernized" spin on the stereotypical Disney princess coming-of-age storyline.
---