'Anchorman 2' director Adam McKay hints at plot details
(Read article summary)
'Anchorman 2' director Adam McKay gives some cryptic clues about the sequel's plot.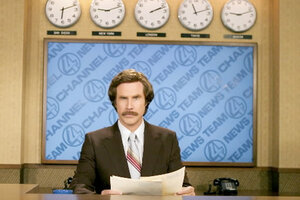 Frank Masi/Dreamworks Pictures/AP
The subject of Anchorman 2 has been bouncing around Hollywood for years, but it was just a few weeks ago that Ron Burgundy himself, Will Ferrell, appeared in character on Conan to announce that he and Paramount had reached a deal to bring the suave San Diego newsman back for a sequel.
Today, we have Anchorman director – and frequent Will Ferrell collaborator – Adam McKay talking about the sequel film, with a few hints about what's in store for Ron and the Channel 4 News Team's new adventure.
Well, first off, we went and did some other movies; that was the initial delay. By the time we heard from enough fans and heard enough of the demand for a sequel, it had been a few years. We went to the studio and they kind of weren't into it initially. They said the original one made pretty good money, but for what it made we'll give you this and this, and it was a very low budget. We would have all been working for free to do it.
---