'Breaking Dawn – Part 2' full-length trailer arrives
(Read article summary)
The trailer for 'The Twilight Saga: Breaking Dawn – Part 2' shows some of the battles to come in the new film.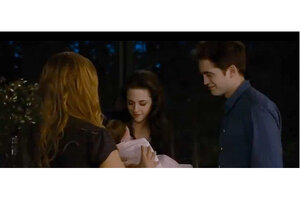 Summit Entertainment/YouTube screenshot
While we all wait to see if The Twilight Saga is getting a reboot, there is still the old business of closing out this first version of the story, which will be done when Breaking Dawn – Part 2 hits theaters this winter. Today, we have the first full trailer for the film, which was once again directed by Oscar-winner Bill Condon (Dream Girls).
The teaser trailer focused on Bella (Kristen Stewart) as she enjoyed the super speed, strength, and ruby eyes that come as perks with being transformed into a vampire. In the full-length theatrical promo for the film, Mrs. Cullen also clarifies that she was, in fact, born to be a blood-thirsty immortal creature (take THAT as you will).
However, there are far more important events in motion in Breaking Dawn – Part 2, beyond Bella's coming of (vampire) age. The powerful Volturi clan has gotten wind of the fact that Bella and Edward (Robert Pattinson) have procreated, giving rise to their human/vampire hybrid daughter, Renesmee (Mackenzie Foy) – and are misled to believe that the Cullen child represents a serious threat to the very existence of their kind.
---