Emma Stone: A superhero movie is only one of many genres for the star
(Read article summary)
Stone's appearance in 'The Amazing Spider-Man' checks superheroes off her list. Anything left?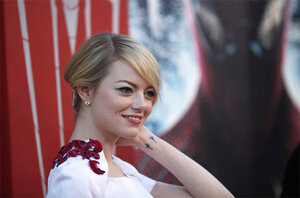 Mario Anzuoni/Reuters
Try to find a genre Emma Stone hasn't tackled.
It'll be a tough hunt. Stone is taking on the superhero movie for the first time this week with the opening of the new film "The Amazing Spider-Man," in which she stars as Peter Parker/Spider-Man's high school love interest Gwen Stacy (and many critics are saying their relationship is one of the best things about the film, with Monitor critic Peter Rainer writing that Garfield's sulkiness "contrasts smartly with his high school sweetie Gwen Stacy (Emma Stone), who is all smiles and wiles. Director Marc Webb… wisely keeps this duo front and center.")
So this is the first time she's shown up in a superpowered summer tentpole. But this past Oscar season, she garnered awards buzz when she appeared in the film adaptation of Kathryn Stockett's juggernaut novel "The Help" as crusading writer Skeeter Phelan, for which she snagged an Outstanding Actress in a Motion Picture nomination at the Image Awards and a Choice Movie Actress nomination at the Teen Choice Awards. The film earned a Best Picture nomination at the Oscars and a Best Motion Picture – Drama nomination at the Golden Globes.
While it's a funnier take on the genre than most, Stone took on apocalyptic drama in the 2009 movie "Zombieland," where she starred with Jesse Eisenberg, Woody Harrelson and Abigail Breslin as one half of a duplicitous sister duo trying to survive in a zombie-ridden US.
---