Philip Seymour Hoffman signs on for 'Hunger Games' sequel 'Catching Fire'
(Read article summary)
Philip Seymour Hoffman will appear as a pivotal villain in the 'Hunger Games' sequel.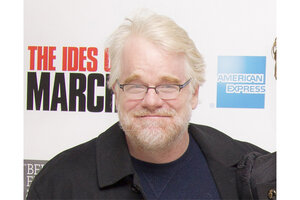 Joel Ryan/AP
After the incredible box office success of The Hunger Games, including one of the most profitable opening weekends in history, it's hardly surprising that Lionsgate is hurriedly moving ahead with The Hunger Games: Catching Fire, the adaptation of the second entry in Suzanne Collins' dystopian book trilogy.
Now it seems that Oscar-winner Philip Seymour Hoffman (Capote, Moneyball) might lend his considerable talents to the upcoming sequel.
Lionsgate has offered Hoffman the pivotal role of Plutarch Heavensbee, the new head Gamemaker for the annual competition known as "The Hunger Games." Wes Bentley (American Beauty) portrayed the previous Gamemaker, Seneca Crane, in the first installment. However, Heavensbee will likely be a meatier, more nuanced role than that of Crane, if Catching Fire stays even reasonably faithful to the book.
In Mission: Impossible 3, Hoffman made an impression as a truly vile sociopath, so he's obviously got acting chops when it comes to playing villains. Of course, he has also tackled a number of seriously flawed and morally ambiguous characters throughout his career, like Andy Hanson in Before the Devil Knows You're Dead and the legendary writer Truman Capote, for which he won an Oscar. Fortunately, Heavensbee is a bit more than your garden-variety antagonist, so Hoffman could have some real fun with the role (provided he signs on). Should he come join the cast of Catching Fire, it's reasonable to assume he will be back as Heavensbee for the trilogy's inevitable conclusion, Mockingjay.
---