'Looper,' starring Bruce Willis, could be one of September's best movies
(Read article summary)
Bruce Willis stars in 'Looper,' one of several September releases that looks promising.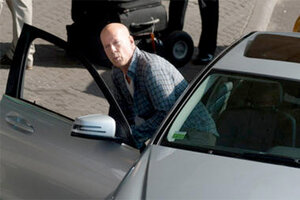 Bea Kallos/MTI/AP
The fall 2012 film season has finally arrived. The summer blockbusters have come and gone. During the next few months, viewers will now be treated to some of the smaller movies that could win big come awards season - though films like The Hobbit and James Bond's Skyfall will still deliver the blockbuster experience.
Two of the most highly-anticipated movies of the year will arrive in September with director Paul Thomas Anderson releasing The Master, his first movie since the Oscar-winning film There Will be Blood (2007), and Clint Eastwood returning to acting in Trouble with the Curve. Eastwood hasn't appeared in a film since Gran Torino in 2008, so there's much anticipation about his new project. PTA's return to the director's chair and Eastwood's return to acting are only two of the many reasons we at Screen Rant are looking forward to going to the movies next month.
With that in mind, here's our list of the 10 movies we're looking forward to seeing in September 2012.
'The Master'
Over the past fifteen years, director Paul Thomas Anderson has delivered an incredible array of movies. From Boogie Nights (1997) to Magnolia (1999) to There will be Blood (2007), the director has consistently and creatively engaged audiences.
The Master looks like it will continue the Oscar-nominated director's streak of unique projects. The controversial film - which has a very loose connection to Scientology - focuses on a young veteran (Joaquin Phoenix) returning from war, who becomes involved with a religious leader, played by Philip Seymour Hoffman. The film features Phoenix's first onscreen performance since his big publicity stunt about "quitting acting" a few years ago. Early reviews are already in and it looks like The Master could offer viewers a strong story and great performances from Phoenix, Seymour Hoffman and Amy Adams.
---