'The Walking Dead' season 4: Comic book creator Robert Kirkman discusses what's ahead
(Read article summary)
'The Walking Dead' season 4 will have 'big stuff that people have been expecting, or that people have been anticipating from the comics,' Kirkman said. 'The Walking Dead' season 4 will premiere on AMC this fall.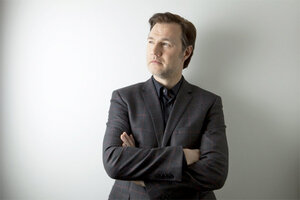 Amy Sussman/Invision/AP
Season 3 of The Walking Dead has come to a close, but just like the gruesome fate that potentially awaits each and every character, the series will return to stalk and torment those still counted among the living.
But unlike the climax of season 2 – which teased viewers with a tantalizing and somewhat-foreboding glimpse of the prison – season 3 reached its conclusion with a slight sense of optimism (as Rick and the others welcomed the citizens of Woodbury into the prison), but no real indication of the direction The Walking Dead would be headed in season 4.
In a series of interviews, comic book creator Robert Kirkman discussed the season 3 finale, the fate of Andrea, Milton and the Governor, as well as what fans can expect from the core group of survivors, now that they seem intent on making a go of it as a community in the prison.
While there have been certain key deviations the series has taken from the source material, e.g., Andrea's demise, Kirkman maintains that at least some of season 4 will focus on the dynamic between Rick and the recently-welcomed Tyreese.
Kirkman said:
"There's some really, really cool and big stuff that people have been expecting, or that people have been anticipating from the comics, that will work into Season 4. To give a hint, I will say that we do have Tyreese and Rick, who are now united, which is a big moment for the comic book fans. There's a lot of story that comes from those two guys being on the same side. We'll possibly see a bit of that in Season 4."
---