Channing Tatum: Will he direct 'Magic Mike 2'?
(Read article summary)
Channing Tatum said in an interview that he could be interested in taking the director's chair for a possible sequel to the film. Channing Tatum will also star in June's 'White House Down.'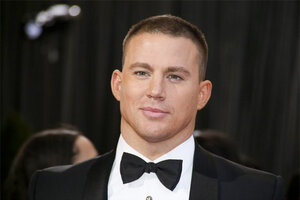 Lucy Nicholson/Reuters
We've said it before, but it bears repeating: you don't have to like Channing Tatum as an actor, but through his charismatic performances in The Vow, 21 Jump Street and Magic Mike – not to mention, Tatum's solid supporting role in Haywire – he's already proven to be more than just a disposable pretty boy.
Tatum's lined up an eclectic collection of roles for the foreseeable future, such as a reunion with Haywire and Magic Mike director Steven Soderbergh on The Bitter Pill, the part of Olympian Mark Schultz in Moneyball director Bennett Miller's Foxcatcher, and the lead in Roland Emmerich's thriller White House Down. He's also been discussing the possibility of a Magic Mike 2 with writer/co-producer Reid Carolin – and could even end up directing the sequel, should it happen.
Soderbergh is planning to take a (permanent?) break from filmmaking beginning next year, so he won't be available to sit in the director's chair for Magic Mike 2. Tatum tells German site Filmstarts that Soderbergh's trusted assistant director and producer Gregory Jacobs – who's already helmed the films Criminal and Wind Chill – could take his place. The actor also says he's interested (and willing) to try his hand at directing the sequel.
---