'The Mortal Instruments: City of Bones' review: You can skip this over-the-top YA adaptation
(Read article summary)
'The Mortal Instruments: City of Bones' has more sappy romantic drama than 'Twilight' and its source novel has little emotional payoff, leaving little for 'Mortal Instruments: City of Bones' director Harold Zwart to work with.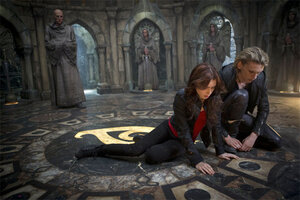 Rafy/Sony Pictures Screen Gems/AP
In The Mortal Instruments: City of Bones we are handed the revelation that the world we think we know exists on top of a supernatural plane in which the forces of good and evil are constantly at war. New York teenager Clary Fray (Lily Collins) lives a normal existence – that is, until her latest birthday reveals strange new powers like "the sight" – a mystery that turns into panic when Clary's overprotective mother, Jocelyn (Lena Headey), goes missing.
While on the search for her mom, Clary is attacked by a fearsome demon – only to be saved by Jace (Jamie Campbell Bower), a mysterious demon-hunter ("shadowhunter") that only Clary seems to see. Jace reveals to Clary that she – like her mother – is one of a select group of shadowhunters, tasked with protecting the world from demonic forces. With a dark threat rising, and her mother in peril, Clary, Jace, and their allies will wage warrior against a clandestine threat within the shadowhunter order, while searching for the powerful talisman known as The Mortal Cup, whose location only Jocelyn knows for sure.
The Young Adult movie genre has gotten something of a stigma since Twilight invaded the mainstream, and most moviegoers approach any film within that genre – specifically the YA supernatural sub-genre – with a very critical eye for quality storytelling over hokey romance fantasy and skewed supernatural mythology. I'm proud to report that despite having a very skilled cast of both younger and older actors doing it justice, the material propping up The Mortal Instruments is every YA genre skeptic's nightmare, and the cinematic interpretation is such an overwrought, drab and cumbersome film that it's not even a suitable popcorn-muncher to help pass the time.
---