Beyond the scary Christmas list: the full parenting price tag
The parenting price tag has soared to about $220,000 per child. If you think the kids' Christmas list is hefty, there's no end in sight to the add-ons Americans can think of in the cultivation of kids.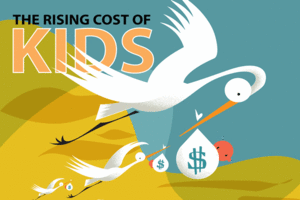 Laura Smith
In the equation of life, few parents ever really do the math on the actual dollars-and-cents cost of a child. Sure, the holiday season rolls around and they know that Xbox or that iPod Touch on a kid's wish list is going to tax budgets; sure, the looming cost of a college education can sap some enjoyment from a family vacation. But few parents would guess that the average American child costs more than $200,000, and that's before college even starts.
The calculus of kids can be gauged, for example, in one recent weeknight scene in the busy life of the Gianulis family. Theirs is a very middle-class equation that involves love and a striving to give their kids healthy, enriched lives – their own version, they say, of No Child Left Behind.
The setting is their spacious three-bedroom, 2,100-square-foot suburban home in a neighborhood chosen for the good schools (median home price: $379,000). The kitchen is sizzling as Samantha Gianulis cooks up a comparatively costly meal, both in price but also in the time she devotes to it: steamed green beans (organic, $1.60 a pound, about 50 percent more than regular beans), whole wheat pasta shells ($2.50 a bag versus the 50-cent special on store-brand pasta), and tomato sauce she makes from scratch (organic tomatoes for $2.10 a pound and extra virgin olive oil, the good stuff at $12 a bottle); time invested is about 10 times that of opening a can of SpaghettiOs. Her oldest, son Alex, age 11 – just in from baseball practice (team fees: $1,000 a year) – watches TV with Dad – Pete – who is resting up from a weekend injury he got while coaching all three of his kids' soccer teams (fees for three kids: $600 a year, plus about 50 hours of Dad's time). On the floor is Alex's baseball mitt (somewhere between $30 and $150); he hopes that Christmas will bring him a much-coveted big barrel bat ($300).
---