On this Take Your Child to Work Day, Secret Service and strippers
Take Your Child to Work Day got a bit awkward at a State Department briefing yesterday, with journalists asking about a widening Secret Service scandal involving prostitutes and strippers.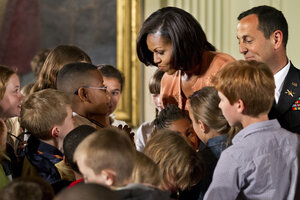 Manuel Balce Caneta/AP
Children participating in the State Department's "Take Your Child to Work" day event on Thursday were treated to a discussion of prostitutes and strip clubs as reporters pressed for answers on a widening Secret Service scandal.
State Department spokeswoman Victoria Nuland opened the daily news briefing with a salute to the handful of underage observers who joined journalists for the mid-day run-down of global events.
But any hopes that the briefing would steer clear of the salacious dissipated as questions focused on charges that Secret Service agents and other U.S. government employees caroused with strippers and prostitutes on overseas assignments.
"What a topic to be talking about on Bring Your Kids To Work day," Nuland said. "Parents, you can explain all of this later."
Nuland said the State Department was investigating the conduct of one U.S. Embassy employee allegedly involved in an incident in Brazil, the second of two embarrassing scandals to emerge this month involving U.S. officials and sex workers in South America.
---