Maurice Sendak beloved by parents and kids around the world
Maurice Sendak, who passed away this week, was beloved by parents and kids around the world, who admired his unique storytelling abilities that could transport the reader into wild worlds of unfettered imagination and wonder.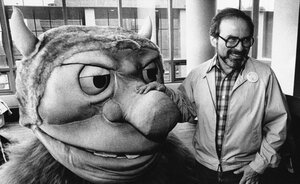 File/AP
The claws and teeth of wild things are a near-nightly affair at bedtime for Gregg Svingen's 2-year-old, Tessa. She raises a tiny index finger and issues a clear and forceful "Be still!" to knock Maurice Sendak's monsters into shape.
"This evolved into telling anything scary or threatening a confident 'No!', again with an empowered toddler digit," said Svingen, an American living in Brussels who keeps two copies of "Where the Wild Things Are" on hand.
Count Svingen and other grateful parents — and their kids — among those around the world to bid Sendak a fond farewell Tuesday, when he died in Danbury, Conn., at age 83. Many devoured his books as children themselves.
"Sendak reminds adults about the best parts of childhood: the freedom, the boundless energy, the possibilities, the security, the fantasies, a time where the rules can bend any way your imagination desires," said Nicole Forsyth, whose 4-year-old, Audrey, likes "In the Night Kitchen" the best.
"But he also reminds us of the pain of childhood: the frustrations, fear, loneliness and confusion, the unfinished mind in its extremes of pure joy and raw, untempered ego," said Forsyth, in Sacramento, Calif.
From the naughty Max of "Wild Things" to the foul-tempered Pierre from Sendak's bite-size Nutshell Library, parents said Sendak understood the inner world of childhood like few other writers for kids. It's a world, Forsyth said, that "I created, that I had control over, that somehow made more sense than the world seems today."
---