Arby's: Michigan boy bites into severed finger in his sandwich
Arby's apologizes for the accident in which part of a worker's finger was sliced off and served in a roast beef sandwich to a Michigan boy.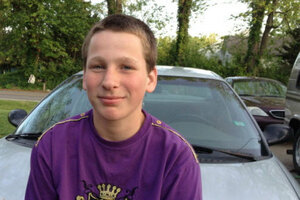 AP
A Michigan teen finishing off an Arby's roast beef sandwich chomped down on something tough that tasted like rubber, so he spit it out.
It was the fleshy, severed pad of an unfortunate employee's finger, apparently.
Ryan Hart, 14, told the Jackson Citizen Patriot on Wednesday that once he got a good look at it, he knew right away what had been in the junior roast beef sandwich he was eating last Friday.
Are you a Helicopter Parent? Take our quiz!
"I was like, 'That [has] to be a finger,'" Ryan said.
The employee apparently cut her finger on a meat slicer and left her station without immediately telling anyone, said Steve Hall, the environmental health director for the Jackson County health department. Her co-workers continued filling orders until they found out what had happened, he said.
John Gray, a spokesman for Atlanta-based Arby's, released a statement Wednesday apologizing for what he described as an isolated and "unfortunate incident." He said Arby's is still investigating, but has determined that the Jackson workers shut down food production as soon as they found out what happened and thoroughly cleaned and sanitized the restaurant.
The injured employee was treated at a hospital. Mr. Gray said the franchise has fully cooperated with health officials and was given the approval to remain open.
Ryan's mother, Jamie Vail, was incredulous. She and her friend, Joe Wheaton, had taken Ryan and his 11-year-old brother to the Arby's drive-thru and she told the Citizen Patriot she thought her son was joking when he exclaimed he had found a piece of a finger in his sandwich.
---