Play time: Kids have less time, more imagination for make believe
New play time study shows kids are more imaginative and comfortable with make believe than they were 20 years ago, despite shrinkig play time during and after school.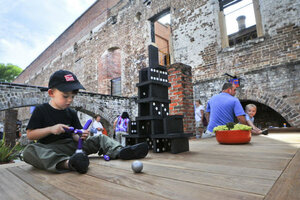 Richard Burkhart/The Morning News/AP
Students today may have less time for free play, but new research suggests their imaginations have actually sharpened compared with children two decades ago.
In an analysis published in May 2011 in the Creativity Research Journal and posted online last month, researchers from Case Western University in Cleveland found elementary school children in 2008 were significantly more imaginative and took greater comfort in playing make-believe than their counterparts in 1985 despite having less time either during or after school for free play.
"We did think everything was going to get worse, because if play time is going down, you'd think children wouldn't be able to engage in play as well as they used to," said Sandra W. Russ, a professor of psychology, who co-authored the study with Case Western doctoral student Jessica A. Dillon.
"We knew from talking with children that they didn't play with toys as much as they used to. So we were surprised by the finding, and we think it's important."
Measuring Play
Ms. Russ has been analyzing students' play practices at middle- and working-class elementary schools for 23 years, using a measure called the Affect in Play Scale. Nearly 900 children ages 6 to 10 have been videotaped for five minutes each as they talked while playing with three blocks and two hand-puppets. Researchers later scored each video for the child's imagination, emotional expression, actions, and storytelling.
"We look at, can the child use the blocks to be different things—cars, a building, beads on a necklace?" she explained. "We look at different play elements in the story: How novel is it? Is the child engaged in it, enjoying it?"
---