Special needs students stay in traditional public schools as others leave
Other students are increasingly seeking out alternative options, causing the cost of educating special needs students to fall disproportionately on regular public schools.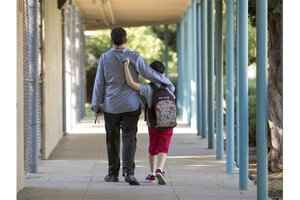 Damian Dovarganes/AP
LOS ANGELES (AP) — The high cost of educating students with special needs is disproportionately falling on traditional public schools as other students increasingly opt for alternatives that aren't always readily open to those requiring special education.
The issue is particularly acute in districts where enrollment has declined due to demographic changes such as low birth rates and population shifts combined with an influx of charter schools and voucher programs that have siphoned off students.
School district officials say all schools that receive public funds should share the cost of special education.
"It raises an ethical responsibility question," said Eric Gordon, chief executive officer of Cleveland Metropolitan School District. "We welcome our students with special needs, but the most expensive programming is on public districts."
In Cleveland, the district has lost 41 percent of its students since 1996 while its proportion of students with special needs rose from 13.4 percent to 22.9 percent last year. In Milwaukee, enrollment has dropped by nearly 19 percent over the past decade, but the percentage of students with disabilities has risen from 15.8 percent in 2002 to 19.7 percent in 2012.
Los Angeles, the nation's second largest system with 665,000 students, has seen enrollment slide by 8.5 percent since 2005-06, while its special needs population has increased from 11 percent to 13 percent.
---