Rescue dog: Exercising dominance for the sake of good manners
Rescue dog Albie begins learning better barking decorum as Dad experiments with different tactics and technique.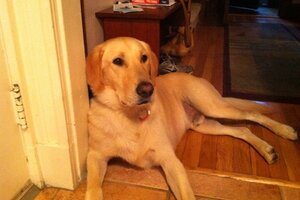 Courtesy of Peter Zheutlin
For the first six weeks or so that our rescue dog Albie was with us, he greeted every stranger like a long lost friend. He wagged his tail. His eyes brightened. He nuzzled their laps and lifted his paw to encourage them to keep paying attention. Outdoors, it's still the same, but of late, at home, there's been a little bit of ruff stuff. Whenever someone comes into the house, even people he's met before, he starts to bark.
It's not hard to discern why. Every dog owner we know, and every book we've consulted, says Albie is doing what comes naturally: he's defending us and his home. But while we appreciate the concern and the effort, we're trying to nip this in the bud lest our home become an uncomfortable place for people we've been welcoming there for the past 24 years.
There's nothing quite as pathetic as a dog who knows he's displeased the people he loves and is attached to, and I hate making him feel that way, but the advice we've been getting is to firmly admonish him when he barks, assert control (that Dog Whisperer guy, Cesar Millan, makes it sound like some kind of telepathic messaging in which you virtually will your dog into submission), and then, according to the famed Monks of New Skete, authors of several books on raising dogs, you basically pretend they don't exist for half an hour (the dog, that is, not your guests, though I'm tempted to try that with certain people who won't be named here).
---