Honey Boo Boo: Creating a redneck stereotype target?
Honey Boo Boo, the rising reality TV star from poorest Georgia, attracts big audiences, but what are those audiences thinking – about her, her community, and the society that entertains itself with a 7-year-old child to reinforce redneck stereotypes?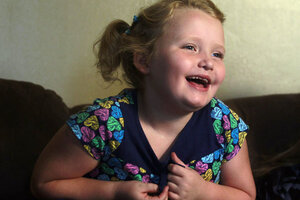 John Bazemore/AP Photo
The reality show "Here Comes Honey Boo Boo" has been a ratings winner in recent weeks, capitalizing on redneck stereotypes and the oversized personality of a 6-year-old beauty pageant regular. But some who live nearby are concerned about the way their quiet pocket of central Georgia is being portrayed on the TLC series.
The show centers around Alana "Honey Boo Boo" Thompson, her mother June Shannon and their family. The round-cheeked second-grader, who previously appeared on the TLC show "Toddlers & Tiaras," has a penchant for outrageous catchphrases – "A dolla makes me holla!" and "You better redneckognize!" –that have gone viral and raised some eyebrows.
Yet as the show attracts healthy audiences for a TLC series – from 2 to 3 million weekly – it has also drawn strong reactions. Some say it exploits and mocks small-town people and perpetuates offensive stereotypes of life in the South. Others criticize the parenting involved. Still others insist the series shows a loving family that doesn't let outside opinions bother them.
In an interview with The Associated Press this week, Alana said filming the show was fun because she got to do things she doesn't always get to do, like going to a water park. Her mother said the family has enjoyed doing the show and believes the way it's edited portrays their unscripted life fairly and accurately.
---