Happy Halloween! No loser candy or mean monster here
Happy Halloween at this dad's house means not having loser candy. It means not being a mean monster to the Winnie-the-Pooh who takes too many treats. And it means letting a tiny policeman use the bathroom.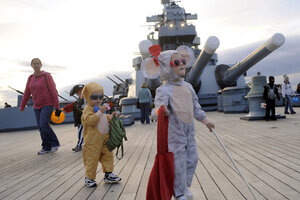 The Star-News/AP
OK, all systems go. Candles in the pumpkins are lit, porch lights are on, got the candy in the bowl – and someone's already at the door!
Wow, great costumes this year, so fun. Except I'm not sure who these characters are. Star Wars aliens? Angry Birds? Nothing like Halloween to test your knowledge of pop culture.
RELATED: 5 free ghoulish iPhone games
Let's see, handing out one piece to each kid seems kind of stingy, but it looks busy out on the sidewalk. I hope I have enough. Somebody like the Gallup organization should do pre-Halloween polling so we get a better idea of what the turnout's going to be.
Ah, here come some familiar figures – Superman and Green Lantern. I'll let each of them choose what they want. Oh, great, they're picking through the whole bowl now. C'mon guys, you'll never make it to the end of the block at this pace.
Yikes, suddenly it's like a flash mob. Hard to see who's getting what with so many hands reaching in. I think that little Pooh Bear kid might have grabbed three pieces, but he's so incredibly cute, and only a real monster would scold Winnie the Pooh for taking too many treats.
---